Finn has created a game called The Apple Reporter. Now I have NO idea what the apple reporter actually is, nor where it came from. I asked him what an apple reporter was and he said "a apple reporter, reports apples." Well, der mama.
Anyway, the game is, you dress up in J's big sunhat, these groucho marx style glasses and nose, and you hold some papers, hunch yourself over and tighten your lips and shuffle into the room claiming to be the apple reporter. The other two people do naught but piss themselves laughing. Frankly, its all you can do when you see the apple reporter in action. Its the funniest thing I have ever seen, Finn looks hilarious in the glasses/nose and I cry laughing.
Here are some pictures of the apple reporter:
Close up:
Here is J being the apple reporter also: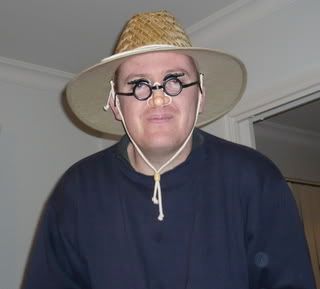 I hope they make you laugh as much as they do me!