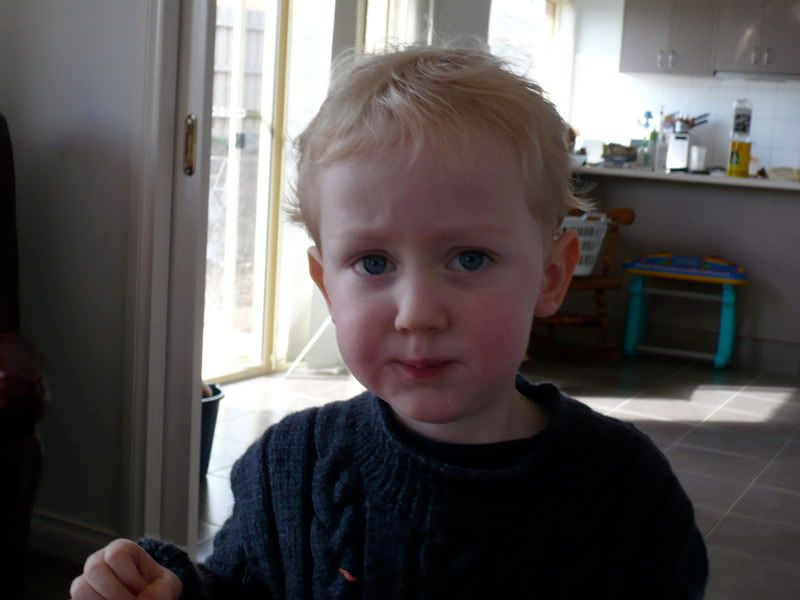 Finn post haircut today, looking somewhat unimpressed...
Dearest Finn,
And so, your fourth year comes to an end. It has been a busy year, it doesn't feel too much like it has flown as it has in years gone by. A lot has happened. Just after your last birthday, we took a family holiday for a few days to Cowes at Phillip Island. We had a great time at the beach, the playground, seeing the penguins, koalas and Churchill island. Was a really nice break, and we named it Finnfest06 because it really was all about you and what you would enjoy! This year (Finnfest07?) we are off to Tassie!
You are a funny boy, from as early as 3 you were memorizing entire books and reciting them back to us in their entirety. These were not short books either, but decent length ones – utterly gobsmacking. You are a clever clogs, no doubtski aboutski!
We moved to a new town, before we really wanted to, it all happened very fast and coincidentally the weekend we came to check out houses, there was a sign out for the Montessori schools open day. This is a twice a year event, so pretty freaky timing! We went along and they had 3 spots left so we snapped one up on the spot. As I said – all very fast and god it has been the best thing!!! You are thriving and they really know you, and are doing everything to help you reach your potential, including increasing you to 4 mornings now, as of next week. When you first went, I cried and cried. It was so difficult to let you go! You did well, my little trooper. You have had some wobbly moments, and some tears, but you really love it. You have mastered a lot of what is being taught, and are ready for the extra morning. The teacher told me that she was teaching the older kids numbers 1-20 and turned around and there you were, having done the lot when even the older kids were struggling. Bless! There was also mention of you in the school newsletter one week as "a first year with beautiful language such as answering 'of course' when asked a question, and 'that's fantastic.'" They comment on it a lot to me,, that you are an amazing little boy. We are so proud!
You have been toilet trained since the end of last year, including overnight. I think I could count the number of accidents you have had in total on one hand. You did it yourself really, one night you asked to wear undies to bed, no more nappy – and we've not looked back you little gem! I was rapt!
This year you have had your first nights away from home, having spent a night at Nanny and Pa's three times now. You did that well and happily too, though we walked round the house in circles feeling lost for the most part! It was odd, you really are growing up fast babe. You adore Shelby and she is just enamored by you, utterly smitten by you, its very cute! She has just started walking and talking to you (in her baby language) which is sweet! They are expecting baby number 2 in a matter of weeks, and we have explained it to you. Your reply was that you didn't want a brother or sister, just your mama and Dadda, because we're a team. How sweet! I think that will change one day but you are happy for now!
You are also now writing letters and numbers which are just gorgeous (sometimes backwards and heart meltingly sweet) and you can read words if they can be sounded out phonetically, which is exciting! Also why the teachers want you for an extra morning a week now. They report that you are a perfectionist and also like to watch something in action before attempting it yourself as you hate failing at things and like to be confident of completing it right before trying. I am always telling you mistakes are okay!
You are still Wiggles mad, happy with Sam replacing Greg, and often reenacting things they do (e.g. origami whale!) You love imaginary play full stop and often re enact various shows you watch (and want to do everything the play school lot do!) Your drawings are now very realistic and you draw animals, people and scenes brilliantly. You love using my laptop and do so expertly now, clicking and dragging and using the touchpad like an expert. You are music mad – video hits is your favourite show and your fave band is probably Silverchair. We watched a concert of theirs on ABC2 last weekend and Daniel Johns was playing his guitar with his mouth. Well! You just thought that was the coolest of cool, and you often play a pretend guitar with your sunglasses on and say you are a rockstar. Rock on dude.
You chatter non stop (get that from your mum!) and are Dad's mate, and Mama's little boy. Normally, I feel bittersweet and sort of sad on your birthday as you grow up; this year I just feel excited. You are coming into your own so amazingly well, and it is so cool to see. I am excited to see you continue to grow and learn. You have lost your baby face almost completely now, which is sort of sad, but you are such a good looking kid (no I am NOT biased!)
A list of beautiful things you have said this year:
You're my best friend.
I said I was scared of sharing my writing with uni and you said "I'll do it for you mama, I'm not scared of writing!"
Why does every people look different?
Why has Jai got brown skin?
One day I woke to hear this: Dadda, isn't mama beautiful?
Conthirty (not confetti)
Where is the earth of Jeff?
I'll draw a loveheart to cheer you up mama. What makes you think I am sad? I just know.
Knock knock. Who's there? Who do you expect?
Puh-lease knock it off (felice navidad).
All I love is just you.
You know how I feel? I feel loved.
Ive got something to say to you mama. Sometimes you ARE clever and sometimes you're NOT clever.
Love you so much, more than I will ever be able to let you know. You're the best babe! Love you!
Mama xxxxx